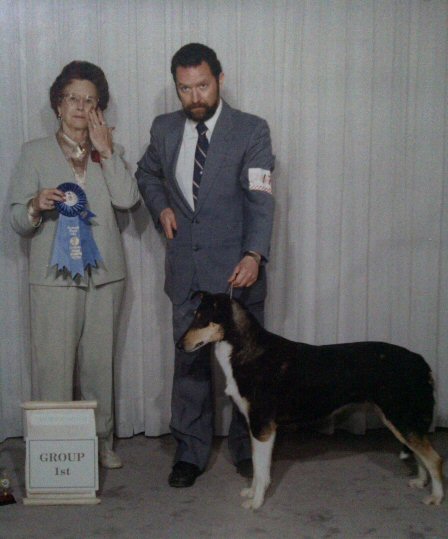 Gordon & Kokanee
Gordon Winstone arrived in Canada from the UK in September 1983 with the Canadian Armed Forces. Shortly after that, he acquired his first Collie, an English Rough Bitch (Poppy) from friends Bill and Dana Giles of Devonway Collies. Through Devonway he developed his love for the Smooth Collie and purchased his first smooth – Devonway's Message to the West (Orca), a Tri Smooth Male just prior to a move from Nova Scotia to Victoria, BC. While in Victoria, Orca was shown to his championship in a long campaign as the popularity of the breed was not high.

During this time he decided to start his own kennel and Cardross Collies was born. With the experience gained with the Devonway dogs, he went back to the roots and purchased both Rough and Smooth Brood Bitches From Maureen Burrell of Braemar Collies. Both Stella (Rough) and Carrie (Smooth) attained their Championship.

Through the following years Cardross went on to produce many Champions, both Rough and Smooth; although the Smooth has always captured our hearts. In the mid 1990's Cardross began working with Kathryn Vineyard of Cresthaven collies from Oregon (background – King's Valley) and the combination of the Cresthaven and Cardross lines became successful in both varieties. With the acquisition of Cresthaven Cardross Kokanee, a milestone was achieved and Kokanee was placed within the top 5 Smooth Collies in Canada for several years.
Cardross exported several dogs to Europe; including Cardross Cinnaberry Speedway, to Finland who achieved both his Championship and the highest mark of the time for a Collie in the required Finnish mental test, and Can Ch. Cardross Just in Time, a Tri Smooth Male who showed at Crufts with Annette Heuvelink of Van Shaka's Royal Kraal (Netherlands) who also imported Cardross Misty Blue (Blue Smooth Female) to the Netherlands.

Gordon retired from breeding in 2000 and when Kokanee passed, still a devotee of the Smooth Collie he acquired Uneeda Last Minute Wish (Deacon) as her replacement from Beth Rutherford of Truro, NS. Who he had assisted as she was starting her own show/breeding career. Deacon went on to great things with both Beth and Gordon's daughter, Natasha Holowaty. American Champion, Herding Certificate, CGN, Canada's 1st Grand Champion Collie (under the old rules, now called Grand Champion Excellent), #1 Collie in Canada (both varieties) 2007, Award of Merit at Westminster 2010, and a Multiple Best in Show & Best in Specialty Show Winner.